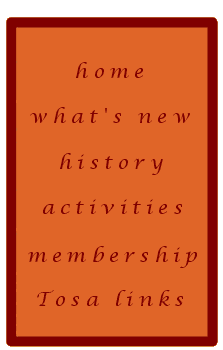 In 1949, the Wauwatosa Newcomers Club was founded by Wauwatosa resident Dorothy Carrigan Sevedge, with the assistance of Marian Hammond and the 20th Century Club. Mrs. Sevedge had launched the Newcomer Hostess Service a decade earlier, for the purpose of welcoming newcomers to the greater Milwaukee area and acquainting them with local businesses and services. She soon realized that newcomers were looking for more than "one call with a package of gifts and information," so she began to organize "get acquainted" meetings at the downtown YWCA. These once-a-month teas, called "Who's New," evolved into newcomers clubs in Wauwatosa and other Milwaukee suburbs.

The WNC started with just ten members, but by the time of the first meeting, held at the Underwood Hotel, the group had grown to over a hundred. Below is an image from the cover of the club newsletter, "The New Tosan," dated 1952.


In the early years of the club, new arrivals to Wauwatosa were first welcomed by a Newcomer Hostess, who provided samples and coupons from area businesses. Next, the hospitality hostess contacted the newcomers, and planned an informal meeting over coffee, to acquaint the new residents with the activities available through the club. The 1952 newsletter lists the following activities that were available at that time: book discussion, sewing group, Christmas dinner dance, Girls Evening Bridge & Canasta Group, monthly luncheons, and the social service committee (involved in charity activities).

More activities were added over the years. A newspaper article from 1975 lists the following additional activities: June Tea, July Picnic, February Men's Night, Christmas Auction and Cocktail Party, bowling, golf, gourmet dinner groups, antiques interest group, arts and crafts, and a gardening group. Many of these same events and activities persist today.

Dorothy Sevedge continued to be involved in the newcomers clubs, hosting monthly meetings of club representatives in her home. In 1989, the Greater Milwaukee Newcomers Clubs held a luncheon to honor the 50th anniversary of the Newcomer Hostess Service. Mrs. Sevedge retired from her hostess service in 1992, but continued to attend newcomer events until quite near her death in 1999.

The Wauwatosa Newcomers Club is forever indebted to the Sevedge family, not only to our founder Dorothy Sevedge, but also to her grandson, Brad Sevedge, for graciously providing the above information (and some delightful stories, too!) about our club's history.